The 3rd party certification company ANACS will now grade and certify all coins, tokens, and medals minted by Daniel Carr. This includes both those issued under the Moonlight Mint entity as well as the Clark Gruber entity. ANACS will use labels specially-designed by Daniel Carr.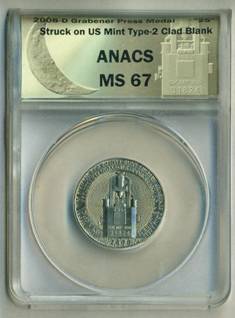 .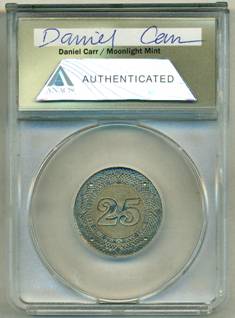 Qualifying items are listed in the Daniel Carr catalog, which is available at: http://www.moonlightmint.com/coin_catalog.htm . Submitted items must not be larger than 40.6mm in diameter. All collectors and dealers can submit qualifying items directly to ANACS.
NOTE: Starting in 2017, for Moonlight Mint issues, ANACS will imprint a "Daniel Carr" signature onto the labels using a rubber stamp provided by Daniel Carr.
For Moonlight Mint items that are not marked "Clark Gruber", a special ANACS label will be used which features a Moonlight Mint logo and a hand-written signature by Daniel Carr. All submitted items that are marked "Clark Gruber" will receive a special Clark Gruber logo label.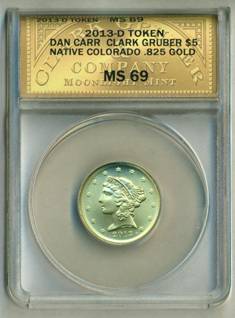 .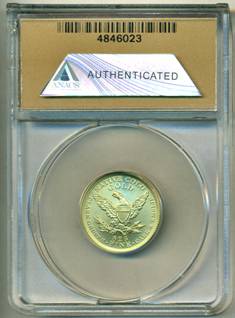 Services and fees for this program fall under the ANACS tokens and medals submission guidelines. When filling out ANACS submission forms, it is advisable to write "Use Moonlight Mint Label(s)" and/or "Use Clark Gruber Label(s)" on the form, whichever applies.
For more information about ANACS programs, visit www.anacs.com .
Daniel Carr is the designer of the US Mint New York and Rhode Island state quarters, as well as his own controversial "Amero" fantasy coin series, among others. He currently operates Moonlight Mint which specializes in the design, sculpting, engraving, and minting of his designs. His company also goes by the name "Designs Computed". Moonlight Mint uses a Denver Mint surplus Grabener coin press for striking all issues.
With this service, Daniel Carr will consult with ANACS regarding all authenticity questions. This is important because in 2008 counterfeit copies of some Daniel Carr coins appeared in China and Canada. Descriptions of these fakes are posted on Moonlight Mint's "Alerts" page: http://designscomputed.com/coins/fakes.htm
ANACS is a well-known and well-respected independent provider of coin certification services, based in Englewood, Colorado.