Links:
Printable Catalog with Mintage Figures
Continuously Updated
Grabener Coin Press Artifacts and Pictures
Moonlight Mint's Mossberg Rolling Mill
NEW
Picture Gallery of
Selected Products
Unauthorized Copies of Daniel Carr items UPDATED
Welcome to the home page of Moonlight Mint – the private mint owned and operated by Daniel Carr, in association with www.DC-Coin.com and www.DesignsComputed.com .


As of August 2013, Moonlight Mint is also officially doing business in the state of Colorado under the registered name "Clark Gruber & Company". The internet domains "Clark-Gruber.com" and "ClarkGruber.com" now point here to MoonlightMint.com.
The firm of Clark Gruber & Co. established operations in Denver during the Colorado Gold Rush. Beginning in 1860, Clark Gruber began converting miner's gold into coins which were readily accepted and circulated locally in the Denver area and beyond. The firm was so well-respected that the US Government bought them out in the mid-1860s, first running the operation as an assay office and then eventually converting it into the Denver Mint. In an ironic twist, in 2001 the Denver Mint sold one of their surplus Grabener coin presses which became a core asset of Moonlight Mint in 2008, and now a reanimated Clark Gruber & Company. Clark Gruber coins are today highly-prized by collectors for their rarity and history. The tradition of Clark Gruber is now carried on.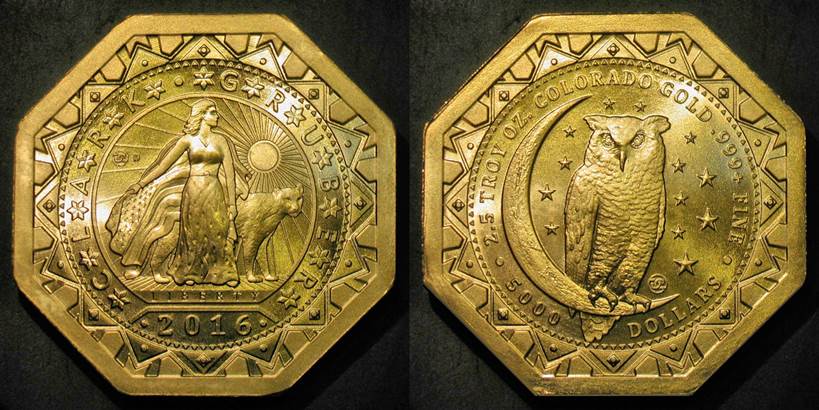 Articles & News:
ANACS now certifies Moonlight Mint and Clark Gruber products with special labels
Commentary on the Great Depression, Gold Confiscation, and the Federal Reserve Bank
Includes a section about the 1934 "Silver Tax Act".
Vintage counterfeit Morgan Silver Dollars – the Perfect Crime UPDATED
Metal Artists Databank : Carr, Daniel James NEW